Director of Community Care, Angie Nitz recently wrote this guest post about the power of school partnerships for our mission network partners at T2C2. You can find the original post here.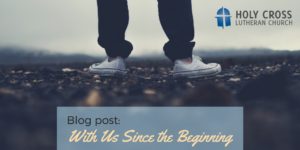 When I stopped by our partner school Marsh Prep Academy recently, Principal Martha Bujanda suggested that we take a quick tour of the school. As we walked, she noted many of the positive changes the school has seen in the last few years and reminisced with me about how far the school and community have come. As we ended our tour, Martha turned to me and said, "We have some great community partners but Holy Cross will always be special to me. You guys have been with us from the beginning."
Our school partnerships began about five years ago. After closing our Lutheran day school and recommitting as a congregation to remain and re-engage with our north Dallas community, our local public schools seemed a good place to start! We started just at Marsh Middle School and Tom C Gooch Elementary with one question…."How can we help?"
Five years later, we have seen countless doors opened and meaningful relationships cultivated. In addition to small things like serving meals to the faculty and collecting school supplies for students and teachers, the mutual respect between the schools and church has allowed us to go further. Our staff members serve on the Site Based Decision Making Teams for each school which allows us to be a part of helping to shape the direction of each campus and gives us an opportunity to hear about issues facing school families so that we can better serve them.
Additionally, at Gooch we now recruit and train Reading Buddy mentors who meet weekly with a student to practice literacy. This year we have our largest group of volunteers yet and are currently serving 24 students weekly. The program continues to grow mostly through word of mouth as our volunteers tell their friends about the impact being seen. In addition, through our partnership with La Paz, Luis Benitez (our Director of Hispanic Ministries) coaches a soccer team for Gooch students. Once a week the team meets at Holy Cross for practice, a meal and devotion/prayer time.
At Marsh, Holy Cross staff members teach a character development course twice per month through the Leadership Cadet Corps. Though this course is not a Biblical curriculum, it allows us to cover many Biblical principles such as treating others as we would like to be treated, etc.
As a result of the relationships made and cultivated over these last several years we have seen exciting developments. Many of the children and families involved in our summer camp ministry, soccer team and WILD Wednesday midweek program have come to us through our presence in the schools. This has meant that in addition to providing for physical and educational needs in the schools, we are also able to share the Gospel on a regular basis with these same families in the after school hours.
The last five years have also brought many positive changes to the schools we serve. Both schools have shed an "Improvement Required" designation and have seen sharp improvement in student achievement, attendance and retention. This is largely due to some incredible leadership and talented, dedicated and hardworking teachers. That day in her office, however, Principal Bujanda pointed out that these were not the only factors in their turnaround.
I knew what she meant. God has continued to "stick by us" too; opening doors and fostering relationships that allow us to continue to serve. Our ministry to school children today looks very different from what it did a decade ago but our Jesus doesn't. He's the same yesterday, today and forever!