This week, as we mark Veteran's Day on November 11th, we take the opportunity to look at the Biblical theme of "Sin and Freedom" in our Sunday worship service. It's a theme which, beginning in Genesis and ending in the book of Revelation, deals with the bondage we find ourselves in due to our sinful nature but also the profound freedom we have in Christ to serve others.
Followers of Jesus recognize there is a tension that exists in this earthly life where our sinful nature continually fights to turn our attention inward on ourselves while at the same time we experience the profound forgiveness we have in Christ and the freedom he brings to us so we can live for others. In John 15, Jesus says to his disciples, "13 Greater love has no one than this: to lay down one's life for one's friends."  The apostle Paul, writing to the church at Galatia, says, "It is for freedom that Christ has set us free!"
For those who serve in the military, that phrase is well understood. Time and time again, men and women, particularly in combat situations, are asked to lay aside their own interests for the sake of others. Many even lose their life in doing so. Whether it is Veteran's Day to honor the living or Memorial Day to honor the dead, we are grateful for those who serve or have served in freedom for the defense of freedom.
But what about the rest of us? Those of us who probably aren't faced with regular, life-threatening situations? Those whose only combat experience is rush hour traffic?  Where do we find ourselves in bondage to sin and where and how can we experience the life giving freedom of Jesus and of discipleship?
We address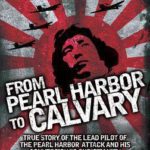 that on Sunday, November 13th during worship, but if you can't join us, catch-up on-line through our website audio link or subscribe on iTunes and receive automatic downloads when new messages are posted.
In the meantime, are you interested in learning more about veterans who found release from bondage and freedom in Christ?  Two stories you need to check out, either by googling the short version or reading the longer testimony of their faith. But, be warned, it's not what you think and it will challenge you to think deeply about this gift of grace that comes to us through the death and resurrection of Jesus.
The first story is about Mitsuo Fuchida, a Japanese pilot during WW2 and his journey from Pearl Harbor to Calvary. Check out his book by the sam
e title or find him on-line. You'll be deeply moved and challenged to rethink what it means to "love your enemy."
The second story is about WW2 Lutheran Chaplain, the Rev. Henry Gerecke who, during the Nuremberg Trials, served the spiritual needs of some of the most disreputable men to ever wear an army uniform—Nazi generals.  Do you believe there is a limit to forgiveness?
Take advantage of our national holiday to make the "freedom connection" to your life of faith.  How can Veteran's Day be different for you this year, even if you never wore the uniform? Join us and discover more!