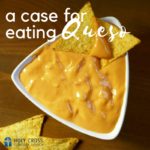 "Let us hold fast the confession of our hope without wavering, for he who promised is faithful. And let us consider how to stir up one another to love and good works, not neglecting to meet together, as is the habit of some, but encouraging one another, and all the more as you see the Day drawing near."
In this passage of Hebrews, I find the exact explanation I have experienced in community through Holy Cross. More than just as a pat on the back to this congregation that has recently welcomed new members, including myself, I want to share the following as a call to keeping this passage in mind as we go forward–together in Christ!
In the interest of (hopefully) edifying vulnerability, I'll share a (Reader's Digest) portion of my story from the last year: In light of various personal factors, including moving to a new city and changing jobs, I have recently experienced a dry season of both faith and friendship in my daily life. Outside of Sunday mornings, I knew and believed but did not live out the Hebrews passage above. I knew that God was faithful to follow through on his promises, and that he never intends his children to go through life alone, but in my own neglecting to reach out, in my neglecting to meet together, I was missing the "stirring up" of fellowship and good works that he offers us.
Enter: Theology on Tap! Going beyond Sunday morning worship and diving into a community, especially in the midst of the work week, has been the fulfillment in my life of these promises. This ministry of young adults, who meets on Monday nights at Rusty Taco for Bible study, prayer, and queso(!!) has been a true blessing. #Blessed #Queso In all seriousness, that one simple, intentional act of reaching beyond my comfort zone has brought encouragement, accountability, and friendship in more instances than I would have ever hoped.
So here's a big thank you. Thank you for being a congregation willing to support and be part of ministries that are varying, growing, and constantly changing. I love that we have such a range of opportunities, from service to study to fun, for all ages and life stages, and for both English and Spanish speakers!
Lastly, here's the call to you and my prayer for us: Let us not take for granted the variety we have been blessed to represent in the Body of Christ, and let us continue to find our niche in the community to share the Gospel and our daily lives together, "all the more as [we] see the Day drawing near." Amen!